Digital tools help rural businesses fight 'retail apocalypse'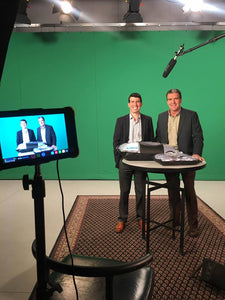 By Laura J. McKenzie
Many Americans are torn by their desire to live in a rural area and their need to operate a successful business. What they are finding as the key to survival is access to broadband internet.
Merchants in rural America are trying to overcome a 'retail apocalypse' as more and more consumers purchase products online.
According to a March 2019 study by the U.S. Chamber Engagement Technology Center (C_TEC), "Rural America comprises over 18 million households and over 37 million adults. While accounting for nearly 15% of the adult population and covering over 72% of the land, annual revenues of businesses located in rural areas make up less than 10% of the U.S. economy (approximately $3.1 trillion)."
"The use of digital technologies, including access to high-speed internet and online tools, is gaining popularity in rural areas because they create opportunities for small businesses in rural America," stated the study which was sponsored by Amazon®.
Key findings of the study were:
• Digital technology boosts sales and reduces costs for rural small businesses;
• Small businesses in rural areas are slowly adopting digital tools and technology; and
• Rural small businesses utilize digital tools and technology for sales, marketing, and operations.
After surveying 5,300 small businesses in rural areas, C-TEC found that "nearly 20% of rural small businesses in America generate the vast majority of their revenue (at least 80%) by selling their products and services online. A slightly larger share of rural small businesses, 22%, purchased at least 80% of their goods and services online."
"Greater use of digital tools and technology could unlock potential in rural small businesses across the country."
They also found that "the economic benefits of digital technologies have not been fully realized in rural areas. If rural small businesses had better adopted online tools and technology, their gross sales would have increased by an additional 18.3% in the past three years, the equivalent of $74.4 billion per year. Consequently, rural small businesses would have added another $41.3 billion to U.S. GDP per year and created an additional 316,605 jobs with $13.0 billion wages per year. These unrealized economic benefits are equivalent to 0.2% of GDP and over 5% of the number of unemployed people in the U.S. labor force."
Daniel Alexander, Director of Operations for Anovotek®, an entrepreneurial science and technology-based business in Barnwell, S.C., agrees. "We like to think globally but act locally in our own hometown," he said. "We love living in Barnwell. It's where I grew up. It's a good place to raise a family."
The City of Barnwell has a population of 4,367. Anovotek® has its main office just off 'The Circle', the city's center. The company's research and development facility is about a mile or so away. The company specializes in adding performance features to primarily textile products such as odor control and insect repellant. For example, Anovotek® was selected by members of the United States Swim Team in 2016 to treat all its wearable gear with a wash durable insect repellent (Insect Xtreme® powered by Skintex®MRIII) prior to attending the Summer Olympics in Brazil to combat the potential of mosquito-transmitted Zika virus.
Anovotek® has successfully combined proprietary chemical application technology with digital sales tools. Alexander said access to digital tools has allowed the company, operating in a rural community, to develop and manufacture products locally and yet market their products nationwide. Their Insect Xtreme® shirts have risen organically on the digital platform to an Amazon "Choice" position. He said they have several new products expected to launch in 2020 and the internet is a vital tool.
"We also do a good bit of consulting and need broadband to reach clients worldwide," said Alexander. Since its inception in 2003, the company has worked with clients in over 20 different countries.
"We use digital tools to create business opportunities. If you have access to broadband and are willing to put in the time to use the digital tools out there, then you can be successful," he said.
There is still a lot of work to be done.
The Federal Communications Commission (FCC) set its broadband benchmark for fixed service of 25 megabits per second (Mbps) for downloads and 3 Mbps for uploads and analyzed the mobile wireless speeds of 5 Mbps downloads and 1 Mbps uploads.
The study found that while just over 92% of all Americans have access to the basic benchmark, nearly 27% of America's rural areas still do not have access to broadband.
"That makes a difference," said Alexander. "It makes it hard not to have interruptions in service while making a digital meeting/conference call. It makes a difference in how we are perceived."
The study emphasized the need to the private and public sectors to continue pushing for improved internet connectivity.
"By increasing the quality of connectivity, calibrating the skills required by businesses with how we prepare the American workforce, and maximizing exposure to digital literacy programs for small business owners, small businesses in rural America could realize benefits far greater than they have in the past," stated the study. "Based on the survey conducted for this study, rural small businesses could add over $84 billion in sales per year in the next three years and could create another 360,000 jobs in rural areas, where 17.5 million adult residents are either unemployed or no longer actively looking for employment. Unlocking the digital potential in rural America is important for American small businesses and critical to future U.S. economic growth."
Sources:
https://americaninnovators.com/rural-report/
Daniel Alexander, Anovotek®
Anovotek.com